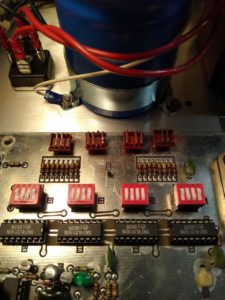 I still occasionally get a FX30 exciter with the original snip-to-set frequency selection DIP header (pictured at top). $4 worth of DIP switches and frequency changes become much easier. This one needed a few minor repairs. Let's dig in!
Normally a FX series exciter will lock its AFC in about 5 seconds. This one took over 30. Watching the AFC voltage slowly ramp up I realized the "dual speed" AFC wasn't switching to high speed on startup. BE accomplished this with a LDR in the control line. When lit up it provides low resistance and fast AFC lock. During normal operation is is powered down and the AFC response is much slower. LDR #2 was the culprit:
These are not too difficult to find despite being out of production for years. $7 plus shipping and the AFC works properly again.